Liverpool Stylist of the Year 2012 guest blog by winner – Abby Rowan
Once I was given the theme twisted circus, I didn't know quite where to start. The obvious choice would have been a clown but I thought many others may have been thinking the same. I then went on to looking at the animals and characters that are part of the circus and I was more drawn to the animals as it was about the overall look I knew I could create and take it one step further when it came to hair an makeup.
I began to search the internet and happened to stumble across an elephant! How did I not think off that earlier! That was it – my model would be an elephant. I started to brain storm my ideas as I was thinking I could make ears out of hair. I later experimented with this but it just didn't look right.
I then decided to make the elephant look female. I went on to making a red hat out of hair using chicken wire as my base and covered it with hair. That was the start of it sewn onto my model's own hair. I then pre-set the hair the night before using sponge rollers and also prepared a very long fish plait, which I intended to use as the tail.
So I had the hair completed and now it was time to move on to the make up which would prove difficult. I needed to find a suitable trunk, and for it to look as realistic as possible. After hours of searching I found one which was perfect. I booked my model into a makeup shop that had worked with prosthetics in the past. The costume I hired was red and gold, which I felt was the perfect colours to match my hat and the whole theme I was creating. I borrowed the most outrageous shoes off my friend to complete the outfit.
The day of the competition had arrived all that hard work and effort was about to pay off. Unless you're a hairdresser I doubt you will understand the tension in a room with around 100 other hairdressers all competing against each other in different categories.
In that sort of situation you cant help but check out what the opposition had to offer. I was scanning the room to see if I could see another elephant, but fortunately mine looked to be the only one. So far – so good. As the day progressed my nerves began to show, but I desperately wanted to win. It wasn't solely for myself, but for my salon too as they had played a big part in my development.
My time had come as my name was called and after all that hard work it was now Showtime! I remember the music was blasting and the judges were asking questions. With everyone watching, I must admit I got mixed emotions. I felt as though I hated it, but deep down I loved it!
I was checking out what the person next to me had created, and then the count down was on. It was time to take off the gown, stand back and release a huge sigh of relief. This moment was probably the proudest moment in my hairdressing career so far – I was delighted with my overall look.
Then the clock was ticking as the names of other hairdressers were being announced in their individual categories. Here came the nerves again and my palms were sweating as they prepared to announce the overall winner of the competition.
"Liverpool Stylist of the Year goes to…. ABBY ROWAN of Qdos Hair Design!"
I was ecstatic and jumped off my seat dragging my model with me! I looked across and saw, my colleagues, my boss and everyone was celebrating. I was shocked, but equally made up! It is an achievement I will never forget and the proudest day of my life.
I want to thank my good friend Daisy who as my model had to sit for over seven hours with an elephant trunk stuck on her face. But, she got revenge the next day when I returned the favour to model for her by getting my legs waxed. OUCH!
I would like to thank all at Qdos Hair Design for their help along the way. I am also grateful to my family friends who have supported me. And finally, Voodou for giving hairdressers like me a chance to show their work off to all other hairdressers in the City. As we all know hairdressers have got to be competitive people as it is the business we are in!
Thanks for taking the time to read my blog
Abby xxx
Liverpool Stylist of the Year 2012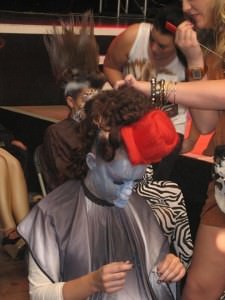 ---